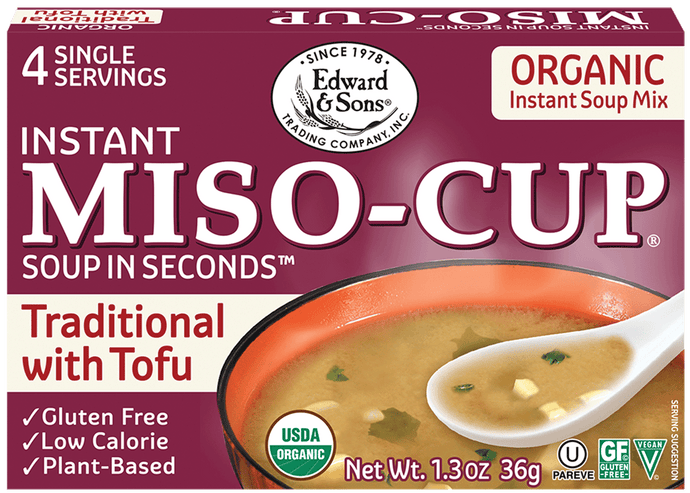 Organic Traditional Miso-Cup® with Tofu (4 Pack)
(BOGO)
Buy One Get One Free - While Supplies Last.

Must order a minimum quantity of 2.

Cannot be combined with promotional discounts.
To make Organic Traditional Miso-Cup® with Tofu, our miso craftsmen age certified organic soybeans and organic rice with a special starter culture. Sea salt is used to regulate this natural aging process. Next, we freeze-dry the fresh unpasteurized organic miso to retain its naturally occurring living cultures before adding in organic tofu and vegetables to complete it's rich satisfying flavor.
USDA Organic

Kosher Certified

Gluten-Free

Vegan

Suitable for low-fat, low-calorie and cholesterol-free diets.
Ingredients: Freeze Dried Miso* (Water, Soybeans*, Rice*, Salt, Koji Culture [Aspergillus Oryzae]), Freeze Dried Tofu* (Soybeans*, Water, Nigari [Magnesium Chloride]), Onion Powder*, Onions*, Wakame Seaweed, Parsley*.
*Organic Ingredients.

Contains Soy